The For Ruck Sake Rugby Legends Tour will host Q&A events with some of the world's greatest rugby players at venues around the country this Autumn, in support of the RFU Injured Players Foundation and a number of other charities.
For Ruck Sake will be the UK & Ireland's largest touring charitable rugby legends event series designed to give fans the chance to hear from their rugby heroes and gain an insight in to their incredible careers, as well as no doubt many stories from their time involved in the game. The For Ruck Sake philosophy is simple: legendary guests, fantastic prizes, charity, and you, the fans.
The tour will include legendary rugby speakers such as James Haskell, Mike Tindall, Gareth Thomas, Lewis Moody, Kelly Brown, and Jason Robinson, who will kick off the 16 date tour for 2019 in London on 7th August at the Sports Bar and Grill in Old Street. See below for a complete list of dates and speakers.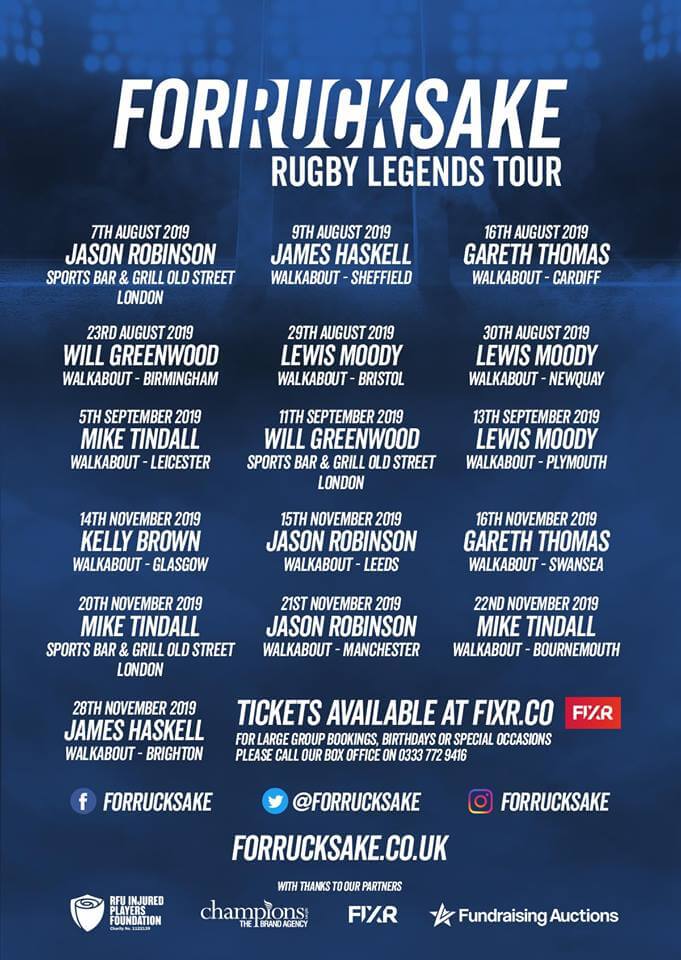 The RFU Injured Players Foundation will be the main charitable partner of the tour and will receive a donation of 10% for every ticket sold at all events in the series as well as further donations from an online auction and additional fundraising at each event. These donations will go towards supporting injured players at all levels of rugby from grassroots to elite professionals, and funding vital research in to injury prevention and to make breakthroughs to understand how improvements to the care of injured players can be made.
For more information about The For Rucks Sake Rugby Legends Tour head over to their website https://forrucksake.co.uk
To buy tickets to any of the Rugby Legends Tour events visit https://fixr.co/organiser/forrucksake
To discover more about the catastrophically injured players you can help to support visit the Real Stories page.