During a recent England match at Twickenham a number of IPF clients who were at HQ to watch the match shared their stories with us.
Stephen Duckworth was paralysed by a rugby injury as a 21-year old medical student. Now in his fifties, he has held senior executive roles in major companies, worked with government, and was on the board of London 2012 Olympic Delivery Authority.
Having qualified as a doctor, he went on to complete an MSc in rehabilitation studies and a PhD in disability and employment. And much of his work since has been centred on improving the life chances of disabled people.
He is currently a Trustee of the RFU Injured Players Foundation, Leonard Cheshire and Governor of Motabilty. He's straight talking, says life is a battle for everyone and what's important is having "a can do mentality".
That disabled people contribute in the world of work and to the economy is a given for Stephen. "They make up 10% of the UK car market sales and 20% of second-hand sales," he said having recently joined Motability and spent the past two years helping to steer the IPF.
He's particularly pleased with the IPF's Engage initiative. "I think the introduction of programmes which are enabling, which are about engaging and motivating people, open doors. Helping to create personal independence and that can do mentality is important. We need a culture which encourages responsibility and that's what the Engage programme is doing.
"When something bad happens what are you going to do to change it? Life is the hardest thing anyone has to do but every day is a battle for every human being. With more give and less take, we can all make decisions about our future. Yes, we might need to apply for ten jobs to get one success but that one success will be so much greater than the nine failures."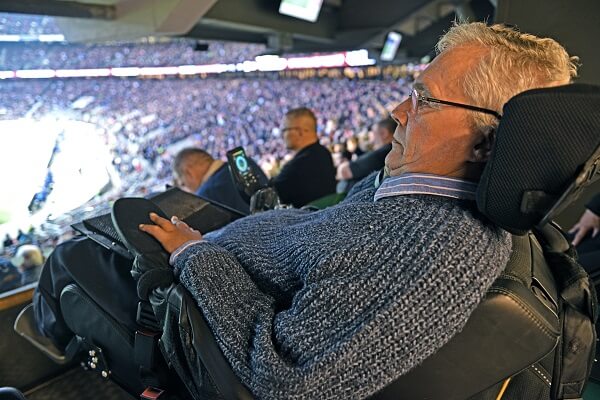 Stephen was sharing a match day with his brother, Michael, and IPF clients in their Twickenham hospitality box and enjoying watching England beat Japan. The mood was upbeat, full of rugby camaraderie and high spirits. Some guests were recalling their weekend in Lilleshall where they took part in a weekend of personal coaching, inclusive sport, and adventurous activities alongside family members and specialist support staff at the Royal British Legion's Battle Back Centre.
Lee Jones, Chris Burns and Dani Watts were all at a Battleback weekend together and now stay in touch on WhatsApp. Chris and Lee were video calling Dani who was supposed to be there too but was under the weather. The three have been egging each other on, Dani persuading Chris when he was "under the influence of drugs" immediately after an operation that on a trip to the next Lions tour he will go into the sharks cage.
"She challenged me when I was high on drugs. I thought I'd see the sharks through the bottom of a boat out in South Africa but now I'm expected to get in a wet suit and go in the sharks cage!" said Chris. That's what happens when you put a group of IPF clients together. "We all had that rapport," said Chris, "got to know each other, shared our background and rugby experiences, the dynamics were brilliant. Last weekend we all met up after the New Zealand match and with modern social media we can always be in touch."
Chris, having worked for the RFU for many years, is a Volunteer Liaison Officer for the IPF across Sussex and Hampshire and is currently also helping the union organise the county championship.
Lee Jones needs no challenging, "I want to jump out of a plane," he said, deadly serious. "Oh and I want to have a go at skiing and go scuba diving as well. I got the first part of my padi licence before I was injured, went diving on the Barrier Reef, the Red Sea, the Seychelles.
"I think the Engage programme is awesome," said Lee. "It gets us together and active and I've got a list of things I want to do and to get other injured players to do as well. I've got ideas brewing."
He is also excited about a possible new chair. "In terms of technology it's right up there," said Lee. "I'm tetraplegic and this chair replicates sitting to standing, even mimics the way people lean forward to stand up. It would be so good, good for my blood pressure, prevent pressure sores. I'm hoping that combined with physio it will make a real difference.
"I have a lot of goals, want to do things I haven't ever done. And I want my children to be adventurous to get as much as they can out of life, to meet diverse people. That way you are never without friends. Playing rugby was part of that for me, I was the first person to play from my family and I love the game."