Chris Sigsworth, the RFU Rugby Development Officer for Birmingham, will be running the London Marathon on Sunday April 13 to help his mate Ben, and to raise funds for the RFU Injured Players Foundation, the official charity of England Rugby.
Sigsworth has been in training for several months and will join the thousands of other runners on the streets of London with the aim of topping the £3,000 that he has already raised for the IPF.
"It's been great to hear how so many clubs have so far supported Chris and donated. That's the thing with rugby clubs, even though there are rivalries we are still one family and do look after each other. I would really ask clubs and players to support Chris and donate to the IPF" said Ben Smoldon of Sutton Coldfield, who is one of the IPF's clients.
Smoldon broke his neck aged 17 playing for Sutton Coldfield Colts against Burton. Following his injury the IPF has provided vital support to Smoldon and his family. "The IPF have been simply amazing" says Smoldon "I can't put into words how much they have done for me and how much their support has meant, nothing has ever been too much".
Smoldon has benefited from a number of vital home adaptations, support with transport, physiotherapy and a small grant which he and his wife used to pay for IVF. They now have four-year-old twin boys, Toby and Oliver.
More recently Smoldon received a specially-modified car costing £37,000.
"In my old car, which was falling apart, I had to sit in the back away from everyone, it was cramped and not a nice experience. Now I can sit in the front, in-between the boys and be able to speak to the driver. It's so much better practically and makes travel much more enjoyable," Smoldon said.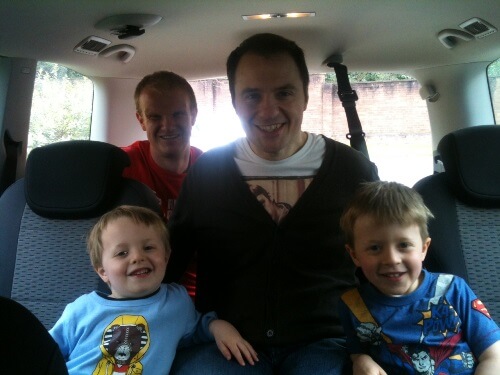 The RFU IPF provides support and information to those who sustain a catastrophic injury as a result participating in rugby union, to empower them to lead as full and independent life as they are able to. The IPF also works with all stakeholders to reduce the risk of these and other injuries in the game.
The IPF provides vital support to Ben, his family and many others across the country. In the North Midlands alone the IPF has provided 49 grants totalling £190,000. This level of support is only possible though due to the generous donations and support from the rugby family.
"The IPF is a great charity and one I am exceptionally proud to be running for. I have known Ben for a number of years now and have seen first-hand how the IPF have helped him and his family and others like him," Sigsworth said.