Two injured players supported by the IPF recently met the charity's patron HRH Duke of Sussex before the England v New Zealand Quilter International and told us why the support of the IPF is so important to them.
James Whitlock was injured playing university rugby for the Royal Veterinary College team when he was 23. Remarkably after six months treatment and rehab, including the first five to six weeks on a ventilator, he managed to graduate with his peer group, earning applause from the other students.
James was injured when, in his own words, he was "getting up from a ruck and someone dived on top of me", and his partner Fleur who he met at vet school was working as a vet for a year in Dubai. As soon as she heard about his injury she flew back to be with him at his bedside:
"For me and for James' parents, who were there with their only son, having the IPF for support made a real difference," says Fleur, now focusing on horse dentistry in Newmarket, while James is an animal vet in a small local practice.
"At the time of James' injury they paid for hotel accommodation, the car parking even, and gave him an iPad all of which made a real difference in such a difficult time."
"Since then they have helped me with physio and stuff," says James, who met the Duke of Sussex before the Quilter International England v New Zealand match. "And it's fantastic meeting the IPF Patron, and enjoying the match with the other guys."
Fleur recently ran the London Marathon to fundraise for the IPF: "After the way they were there for us I wanted to give something back to them," she says.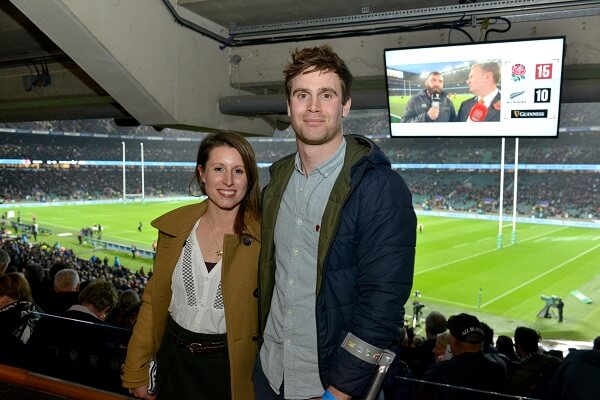 IPF client Arron Williams also met the charity's and the RFU's Patron, the Duke of Sussex, before England lost narrowly to New Zealand.
Said Arron: "It's good that he takes time out to meet us and that he really cares about the work of the IPF. I met him at Hobbs rehabilitation centre when my daughter Alexa was a baby, that was in April 2016 but he remembered and asked how she was."
Arron is still something of an action man, hurtling around in a dirt buggy which the IPF helped him purchase. He spends less time doing that now he is a dad but once again the IPF stepped in.
"Thanks to them I have an off-road wheelchair, so we can go on lovely family walks. It makes a massive difference and the chair is something I probably wouldn't have been able to afford though I love having it."
Injured aged 25 playing for Basildon in 2007, Arron enjoyed the match in the IPF hospitality box with his dad Barry, who said: "It was a massively difficult time but fortunately we had a large supportive family and the IPF got involved pretty quickly with practical help but importantly the kind of moral support which counts for so much."
Arron's mum Yvonne has created an anthology of poems donated by friends and family to raise funds for the Nicholls Spinal Injury Foundation. It is available on line from Egghead publications and costs £10.