Physiotherapy and Design students from Brunel University London teamed up to tackle ways to meet the needs of injured rugby players as part of a new 24-hour design challenge.
The players, representing the Rugby Football Union's Injured Players Foundation (IPF), were consulted by the student teams about living with the effects of catastrophic injury, and to uncover problems in need of creative ideas. And just 24 hours later – after intense research, brainstorming and idea development – the teams had to pitch their concepts to a panel of expert judges.
Physiotherapy lecturer Eve Corner, part of the group who organised this pilot project, was thrilled to see the students working to each other's strengths. "We watched them develop ideas and work together, using different skills and strategies from their disciplines and merging them," she said. "They've come up with some amazing products and they've presented them beautifully."
Team Pressure heard about how one injured player has a bucket list of places he wants to visit, but air travel gives him bad pressure sores. So the team conceived a wedge-shaped lumbar posture cushion with massage balls made from shape-memory alloy, allowing it to be rolled up and readily portable.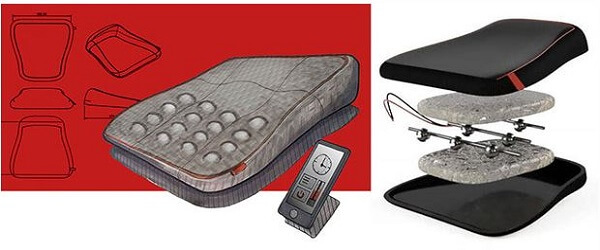 Team TravelAble's idea was to develop an app to help people with disabilities navigate around and interact with cities – factoring in the time taken to move from one public transport vehicle to another, making accessible toilets easier to find, reviewing the accessibility of shops, and so on. The app could also be used to help people recovering in hospital prepare for independent travel.
Team Get a Grip focused on wheelchair propulsion and how it can give injured players hand discomfort. The team came up with a novel glove designed to be easier to put on, combining a splint with a curved zip aimed at reducing the friction against skin that can result from Velcro fixings.
Team BRU-WHAT's aim was to prevent future catastrophic injury on the rugby pitch. Noting that the head, shoulders and neck were the most-injured areas, the team proposed educational and in-game measures: training drills that were more like real gameplay, a cap and shirt with sensors to provide coaching feedback, and more.

Team Design Therapy designed a support to help improve family life for people with one-sided weakness or paralysis. Cradling or feeding a baby would be made easier by wearing a half-jacket incorporating an extra cross-shoulder strap, a scoop to support the opposite hand, a means to adjust support height and an access flap for breastfeeding.

For developing a great idea that could make a real change to an individual's life, and for the depth of research and explanation around materials and portability, Team Pressure was announced as the champion of the challenge.
"For Design students, getting involved with other disciplines, like you would in industry, is fundamental to becoming a good designer," said Team Pressure's Kaelum van der Berg, a second-year BSc Product Design Engineering student. "I think that's why Brunel Design is so great, because they organise things like this."
"Medical design is massive," commented fellow team member Lucy Johnson, third-year BSc Physiotherapy student. "Being able to do it at university, learning already from this experience, then going into the career of physio and having in mind how we can help our design counterparts in the real world… We can change a lot with medical design."
The team's prizes – a tour of Twickenham Stadium and the World Rugby Museum, plus prosecco – were presented by judge Liam O'Keeffe, who had suffered a serious neck injury in 2015 and is being supported by the IPF.
The organisers hope to develop some of the ideas into prototypes, and fellow judge Ruth Peachment remarked that the teams were welcome to discuss them at the National Spinal Injuries Centre at Stoke Mandeville Hospital, where she is the Occupational Therapy Clinical Specialist.
Ms Corner said the novel teaching idea came out of a project to develop an intercollegiate pilot as part of Higher Education Academy training. 'Brunel has run design challenges before but never involved stakeholders.
'It was a truly inspiring 24 hours. The designs they came up with were amazing and the way they worked together was phenomenal. Everybody played to their strengths: the design students liked being able to work with stakeholders, the physios could bridge the knowledge gap and the players, who are all in vocational rehab, felt they were making a valuable contribution, and this would help them get back into the workplace.'
'We hope to run it every year,' she added.
Caroline Searight, Client Services Manager (and Occupational Therapist) at the RFU Injured Players Foundation, called the pilot a 'forward-thinking project, which was stimulating and challenging for both students and the injured rugby players (clients).
'The students impressed us and the clients felt they made a valuable contribution encouraging them to be more proactive with their ideas. This could be a driving influence in their vocational rehabilitation for the future.'
To learn more about how the IPF supports catastrophically injured players and research in to injury prevention, click here.