A team of 40 university rugby players completed the Vitality Brighton Half Marathon in support of their injured team mate.
It was a wet & windy morning on Brighton seafront last Sunday, where an entire squad of rugby players from Sussex University's Mens' Rugby Team took part in the Vitality Brighton Half Marathon on behalf of the RFU Injured Players Foundation. The team rain in aid of the IPF to continue their support for their injured team mate who sustained a life-changing injury while playing for the university two seasons ago.
Amongst the array of fancy dress at the event, a particularly dedicated runner was part of the Sussex Uni team who took to the roads dressed as a banana, and he managed to complete the 13 miles ahead of his other team mates, which was quite an achievement amongst the energetic group! He also made the front cover of the Brighton Argus newspaper as you can see below.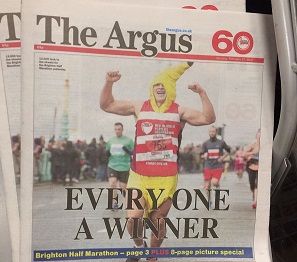 At the finish line the emotions were a mix of relief and happiness. After all of the runners had finished, they made their way down the steep steps on to the pebbles for a celebratory team photo on the beach and to rest their tired legs.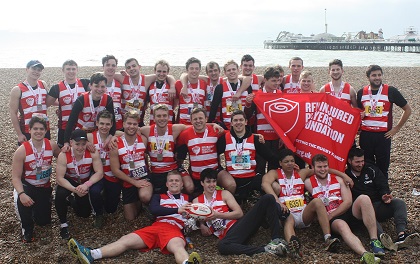 This is the second time the Sussex University Mens' Rugby Team has run in support of the Injured Players Foundation, and so far this year they have raised over £6,500 towards their target to reach £10,000 for the season. After the race all of the runners summed up their last ounces of energy to make it to the pub before England kicked off against Italy that afternoon to cheer on the team and recover from their 13.1 mile achievement.
If you would like to support the team's fundraising efforts this season, you can sponsor them through their online fundraising page here.
We would love to hear from YOU! If you would like to get involved in similar events or would like to raise money to support injured rugby players and to fund vital injury prevention research, get in touch with Phil & Emily in the Events & Fundraising Team by emailing This email address is being protected from spambots. You need JavaScript enabled to view it.
To see photos from the day please see the gallery below: